FROM THE SWAMP TO THE SEA
your "inland" surf shop since 1975.
formerly inland surf shop
Inland Surf Shop was owned by local Bill Murray (not the actor) from 1975-1994 until it became FreeRide Surf & Skate Shop. We enjoy hearing all of the stories from back in the day and how much everyone loved Bill. The original locals still call us "Inland". 
For over 25 years, we've worked hard to continue the same tradition of stoke in Gainesville. 
We all have the same true love for the ocean, sand, and endless waves…our drive just takes a little longer.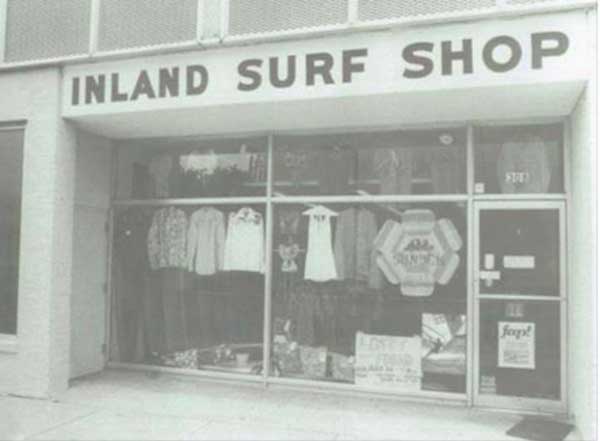 Classic yearbook pictures of Inland Surf Shop 1975
pick up your surf accessories at freeride!
FreeRide Surf and Skate carries a wide-selection of those last minute surf necessities. We can help you pick out the right board rack for your vehicle, set you up with the correct size leash, and even show you how to wax up your board. Save some time and shop local! We've got you covered before you head to the beach. 
DING REPAIRS...BECAUSE SURF HAPPENS
FreeRide's crew can fix most minor dings on any surfboard. You can either purchase a fiberglass or epoxy ding repair kit or for a minimal fee drop it off and we'll fix it for you.
If the repair is severe, (i.e. board is cracked in half, fin box ripped out) we'll check with our local shapers and they'll bring your board back to life.
Take care of the dings! If not, your surfboard could become heavy, water-logged and begin to delaminate.
Consider getting a board bag for the times you're out of the water. The bag protects from both dings and the yellowing from the sun's harmful UV rays.
WE WILL SELL YOUR SURFBOARD ON CONSIGNMENT
FreeRide is currently looking for surfboards to sell on consignment. It's simple. We will agree on a price and when the surfboard sells FreeRide receives 30% and you receive 70% of the sold price. We also offer the option for you to receive 100% of the selling price in exchange for store credit. FreeRide is selective when choosing which surfboards to sell on consignment due to the amount of space we have to store boards.
CHECK OUT OUR LOCAL SURF & SKATE GROUPS
UF CLUBS AND LOCAL GROUPS
Each year we are introduced to new clubs and groups for surfers and skateboarders in the area. We will continue to update this page so you can easily find friends that share your same passion. Contact us if you'd like to have your group added to our list.
Kind Words From Our Customers
We work hard to provide the best customer service to everyone that walks through our doors. After 26 years in Gainesville, it is your support and word-of-mouth that keeps us alive.

After driving over my daughter's first board, she paid for on her own, I found myself at freeride wanting to replace it. I came in with three kids under the age of 11 in tow, had little knowledge, and many needs. The gentlemen who helped was incredibly patient with us all, and answered all my questions, gave great recommendations for what my oldest daughter needed for the next step and what she was looking for, and was super nice. He knew what I wanted to spend and kept us well under. Loved this place and well worth the drive from out of town!! Small business wins again!


The staff was amazingly attentive, even when the shop was crowded. They offered me the most inexpensive option (fixing my existing board) before showing me brand new boards. The vibe is friendly fellow skateboarders wanting to help everyone have the best riding experience possible. Good prices too.

Keep updated with the latest posts, videos, photos and store specials all year!