FreeRide Surf & Skate Shop is the sponsor of Possum Creek Skate Park in Gainesville, Florida. We were proud to be a part of the ribbon cutting ceremony to open the skate park in April 2010.
Possum Creek is a 20,000 sq ft concrete park created by Spohn Ranch Skate Parks.  It was amazing to see this park created in less than a month and a half. 
Park is open sunup-sundown. During the summer months it gets extremely hot so take precautions.
There is plenty of parking and no charge to use the skate park.
Helmets and pads are recommended, however not required if you're over 18.
Get to Know Possum Creek Skate Park
(Northeast Complex Skatepark)
(Albert "Ray" Massey park)
(hal brady recreational sports complex
located next to alachua splash park)
(broward outdoor recreational complex)
CHECK OUT OUR LOCAL SURF & SKATE GROUPS
UF CLUBS AND LOCAL GROUPS
Each year we are introduced to new clubs and groups for surfers and skateboarders in the area. We will continue to update this page so you can easily find friends that share your same passion. Contact us if you'd like to have your group added to our list.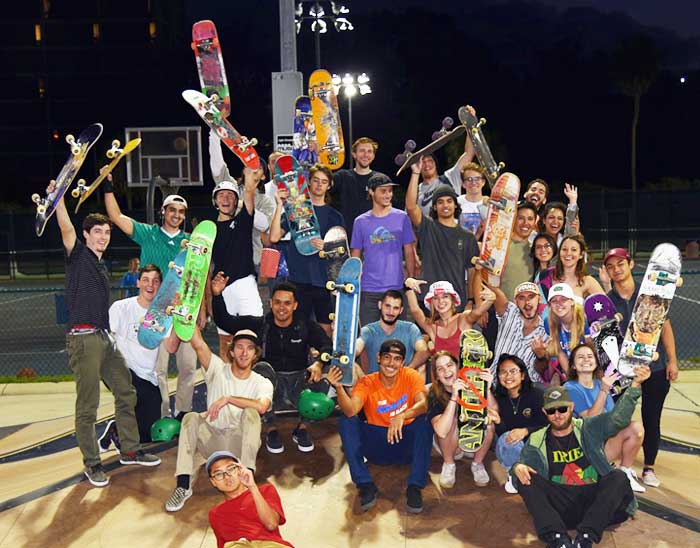 Kind Words From Our Customers
We work hard to provide the best customer service to everyone that walks through our doors. After 26 years in Gainesville, it is your support and word-of-mouth that keeps us alive.

After driving over my daughter's first board, she paid for on her own, I found myself at freeride wanting to replace it. I came in with three kids under the age of 11 in tow, had little knowledge, and many needs. The gentlemen who helped was incredibly patient with us all, and answered all my questions, gave great recommendations for what my oldest daughter needed for the next step and what she was looking for, and was super nice. He knew what I wanted to spend and kept us well under. Loved this place and well worth the drive from out of town!! Small business wins again!


The staff was amazingly attentive, even when the shop was crowded. They offered me the most inexpensive option (fixing my existing board) before showing me brand new boards. The vibe is friendly fellow skateboarders wanting to help everyone have the best riding experience possible. Good prices too.

Keep updated with the latest posts, videos, photos and store specials all year!